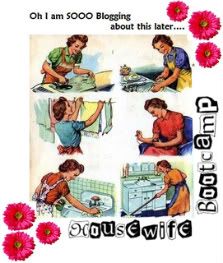 So it has become painfully Obvious I desperately need to be apart of this
boot camp
! I set 5 goals last week and am sad to say I did not complete them all! I started to clean Aries room and then became
extremely
overwhelmed
with just how much was in there I am however proud that I got about 1/3 of it done and enough to actually set up his crib(the bumpers are not actually on the crib they just were for the picture).
I was also able to completely clean my kitchen and do ALL the laundry! WOO
HOO
!
By next Tuesday I hope to complete...

HIS BEDROOM!

HANG THE DARN PICTURES

MASTER BEDROOM COLOR CHOICE

GET A BETTER IDEA OF THE TYPE OF WEDDING DRESS I WANT

The last one is not really a house chore but I am excited to be doing it.
This Friday a friend, who happens to be the fiance of my loves best friend, and I are going to go try on some dresses and really try to figure out the style we want. Its hard to get an idea just looking on line because you
don't
know what the dress is going to look like when its actually on you. I cant really decide if I want something more
Spanish
traditional or something more over the top? or something more simple?... As of right now am kind of leaning more towards something like this...
For those of you who are already married what style dress did you wear?

GOOD LUCK ON YOUR WEEKLY GOALS LADIES!